Funeral Services

We are a major provider of funeral services in the UK and we strive to set the highest standards of service and care.
Crematoria
We are the largest single operator of crematoria in Britain with a growing portfolio of well-established and state-of-the-art crematoria that meet the needs of the local communities we serve.
Pre-arranged funeral plans

We are one of the UK's largest providers of pre-arranged funeral plans and we continue to strengthen our business in this growing market.
What we believe in
We are here to help people through one of the most difficult times in their lives
We do this with compassion, respect, openness and care
We want to be the company that everyone knows they can trust in their time of need
Our purpose and vision
Our purpose
Our customers are at the heart of what we do. We are here to help them at one of the most difficult times in their lives and we are honoured to serve the communities we are part of. Listening to our customers and understanding their changing attitudes and lifestyles must drive what we do as a business. Our brands, products, services and technology must reflect those changes and are the reason why we now offer enhanced choice and value-for-money. The high-quality of our offering, competitively priced, is how we will differentiate ourselves from the competition, both nationally and locally. Every day we want to meet and exceed our customers' expectations. We aim to do this by delivering excellent client service through the continued dedication of our people and by serving our customers with expertise, compassion and commitment.
Our vision
Our vision is to lead the funeral sector in terms of quality, standards and value-for-money. To achieve this we are building a more coherent, cohesive and technology-enabled business, one geared to meet the changing needs of our customers. In addition, we have always taken our role as a responsible corporate citizen extremely seriously and recognised that our broader role in society goes beyond just creating value for our shareholders. We will therefore continue to be a responsible and sustainable business, determined to meet both our social responsibilities and the expectations of all our stakeholders.
Our strategic objectives
Protect market share and reposition the Group for growth

Strategic highlight: In 2018, we grew our comparable market share slightly. This was a good start, but further work needs to be done to consolidate this position.
Establish new market positioning

We establish ourselves as the best value service provider in the market.
Strategic highlight: We have piloted a number of price and service offerings and will continue to do so into 2019 and also affirmed Simplicity's position as the lowest priced nationally available service of its kind.
Re-base the business model and market expectations

Find the optimum relationship between price, service and demand for our funeral businesses.
Strategic highlight: We have made good progress towards re-basing the business model and have worked diligently to keep the market informed of our progress. Having tested a number of pricing and product alternatives we are moving towards an unbundled approach to our full service offering.
Our overall strategic apporach
Continue to build on the strong fundamentals of the business and use these as a platform for change.
Be more distinctive in the marketplace.
Embrace technology in developing and delivering our services for customers.
Continue to be a good corporate citizen.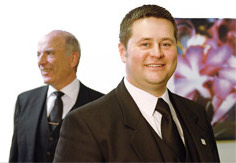 Corporate profile
A regularly updated summary of our business and operations.