Health and safety training (number)
Working safely in the workplace
Dignity is committed to protecting, as far as reasonably practicable, the health and safety of those who work at and visit its premises. Our employees recognise this commitment and safety in the workplace remains a key priority. Working in a safe environment allows our employees to focus delivering excellent service to our clients. Protecting our people also supports employee engagement and retention.
Governance and management
Dignity has a full-time Head of Health & Safety who is supported by nine Health & Safety Officers with a broad collective experience from differing organisational backgrounds. Dignity's Head Office, crematoria and coffin manufacturing factory also have their own managers with responsibility for Health and Safety. In the last ten years the number of accidents has reduced by 34 per cent. Dignity continues to proactively monitor health and safety through quarterly analysis, inspection of premises, surveillance and regular reports to the Board and monitors reactively by investigating accidents and analysing statistics.
Health & Safety performance
Our Health & Safety team have worked diligently to reduce incidents and have focused on improving our safety culture, behaviours and risk reduction. We continue to implement and build on these activities, monitor compliance and proactively identify areas requiring action with the intention of further risk reduction across the business.
Driving continuous improvement
We have a strong culture of safety and operational excellence and through continuous improvement we focus on delivering excellent client service. Our aim is to continue providing excellent leadership in the pursuit of safe and environmentally responsible workplaces.
Managing our environment impact
Our business continues to have a low environmental impact and its activities are not expected to give rise to any significant environmental risk over the next twelve months. All waste generated is properly disposed of in accordance with current legislation and steps are taken to recycle waste wherever this is practical.
Approximately 34,000 cremations at Dignity crematoria were mercury abated during 2018, representing 52 per cent of the total number of cremations.
Dignity's coffin manufacturing facility has ISO14001 accreditation, an internationally accepted standard for an effective environmental management system that is designed to address the balance between maintaining profitability and reducing environmental impact. Our coffins are manufactured using raw materials that are sourced from well-managed and sustainable sources. 96 per cent of the coffins manufactured by Dignity are from Forest Stewardship Council (FSC) accredited timber.
CDP
As part of Dignity's ongoing commitment to reducing its carbon footprint and environmental impacts, Dignity has been reporting to the CDP (formerly Carbon Disclosure Project) since 2008. The CDP is a not-for-profit organisation that aims to reduce impacts on the environment by measuring disclosures from thousands or organisations across the world's major economies. CDP encourages best practice in reporting and reducing environmental impact through a scoring process.  Scoring is based on a number of criteria designed to assess our Energy Management practices and Environmental Strategy, specifically around Performance and Reporting, Risk Management, and Business Strategy in relation to Climate Change.
Dignity's 2018 submission achieved a 'B' rating, with 'A' being the highest rating and 'E' being the lowest rating. Dignity also reported on water and waste management for the third year under the Scope 3 requirements.
ESOS compliance
Dignity qualifies for the Energy Savings Opportunity Scheme ('ESOS'). Having completed an ESOS assessment during 2015 we are not required to submit another report until 2019.
Greenhouse gas emissions reporting for 2018
The Group reports its Greenhouse Gas to CDP on an annual basis in tonnes of carbon dioxide equivalent resulting from the combustion of fuel (direct Scope 1 Emissions) and that resulting from the purchase of electricity (indirect Scope 2 Emissions). The emissions for the last five years are as follows:
| | | | | | |
| --- | --- | --- | --- | --- | --- |
|   | 2018 | 2017 | 2016 | 2015 | 2014 |
| Scope 1 | 16,028 | 15,535 | 15,674 | 14,988 | 14,437 |
| Scope 2 | 174 | 423 | 7,106 | 7,455 | 7,389 |
| Total | 16,202 | 15,958 | 22,722 | 22,443 | 21,826 |
| Per FTE Employee | 5.3 | 4.8 | 8.0 | 8.2 | 8.5 |
Our energy consumption figures over the same periods are:
| | | | | | |
| --- | --- | --- | --- | --- | --- |
|   | 2018 | 2017 | 2016 | 2015 | 2014 |
| MWh | 95,147 | 92,121 | 91,708 | 87,730 | 86,738 |
Methodology
Our greenhouse gas emissions have been calculated on a per full time equivalent employee ratio. This intensity metric is the best measure available to the Group given the diversity of the property portfolio, the three separate divisions of the business, and the absence of a similar business to benchmark against.
We have calculated our scope 1 and scope 2 GHG emissions since 2010 and have recently engaged with Ecometrica Ltd to assist with the carbon emissions reporting, which supports greater transparency and accuracy of data.  Emissions have derived from accurate consumption information on utility bills, smart meter readings and fuel card data.
GHG emissions have been calculated in accordance with the GHG Protocol Corporate Accounting and Reporting Standard (revised edition), using the location based on scope 2 calculation method together with the latest emission factors from recognised public sources, principally Defra/DECC.
Dignity's carbon emissions disclosure has been undertaken in accordance with the Companies Act 2006.
Health & Safety training initiative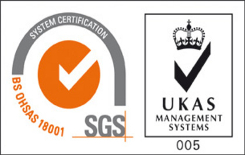 "
OHSAS 18001 is a widely recognised management system that is awarded to sites that have a proven record of promoting health and safety by providing a framework to identify and control risks and reduce the potential for accidents.